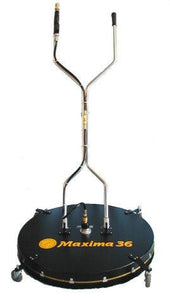 Whisper Wash Maxima 36 4000psi 6-10gpm
The Whisper Wash Maxima 36 cleans flat surfaces quickly, easily, and evenly. Specially designed with the signature rotary system to operate with both hot & cold water pressure washers up to 212. Collapsable at the mid-section for easy transport and storage. The Maxima 36 comes with the signature balanced spray bar and twin thrust bearing swivel design. Clean large flat surfaces such as driveways, parking lots, rooftops, or pool decks. This flat surface cleaner prevents zebra striping and increases your cleaning time by up to sixty percent over a regular nozzle.
Heavy Duty Composite, Industrial Use.
ADDITIONAL FEATURES:
2000 - 4000 PSI
6 - 10 GPM
For use up to 212 Degrees F
For use With: 20 HP or Larger Gasoline Engines
Cleans 36in At Once, thats 3 feet!
Portable Breakaway Handle
Quick Connection
Trigger Gun Controlled
Lightweight Aluminum Cover
Balanced & Machined Spray Bar
Hot or Cold Water Applications
Saves time over cleaning by hand with a wand
Weighs 36 Lbs